Welcome to Tourism Guide India
Welcome to India,
"We Indians fold our hand in Namaste before you because we think that God resides in every Human Being."
Namaskar, India, where culture echoes, tradition speaks, beauty enthralls and diversity delights. Astounding diversity of religions, languages, and cultures of India is unique and unparalleled. It would be better to say it subcontinent rathar than saying country. Bounded by the lofty Himalayan ranges in the north and edged by an endless ocean in the south, clustered by several beaches, India is a vivid form of landscapes, captivating historical sites and royal cities, misty mountain, colourful people, prodigious cultures and festivals. The timeless mystery and beauty of India has been waiting for you for, always warm and inviting, a place of infinite variety - one that favours you with different aspects of its enthralment every time you visit India.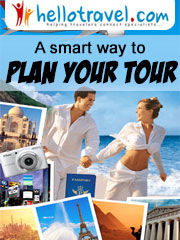 Kashmir -"the heaven on earth".

The natural beauties.

The sanctity of "Ganga".

The Glory of ancient "Himalaya".

The Legend of "TAJMAHAL".

The Great "Golden Temple".
The land of innumerous Temples.

The land of Indian Classical Music.

The 'IT city' - "Benglore".
The culturally rich "Bengol".

The eminent "Durga pooja" festival.

The Captivating "Toy Train".
Mumbai -city of "Bollywood, glamour".

The ancient history of Rajasthan.

The land of palaces, Haveli.

The great historical places.

The "Pink City -Jaipur".

The land of the beaches-"Goa"
The "heart" of India.

The oldest part of India "Madhya Pradesh"

The seven colours of "Culture"

.
Famous Natural Places in India
Famous Hill Stations in India
Famous Religious/Historical Places in India
Famous Cities across India